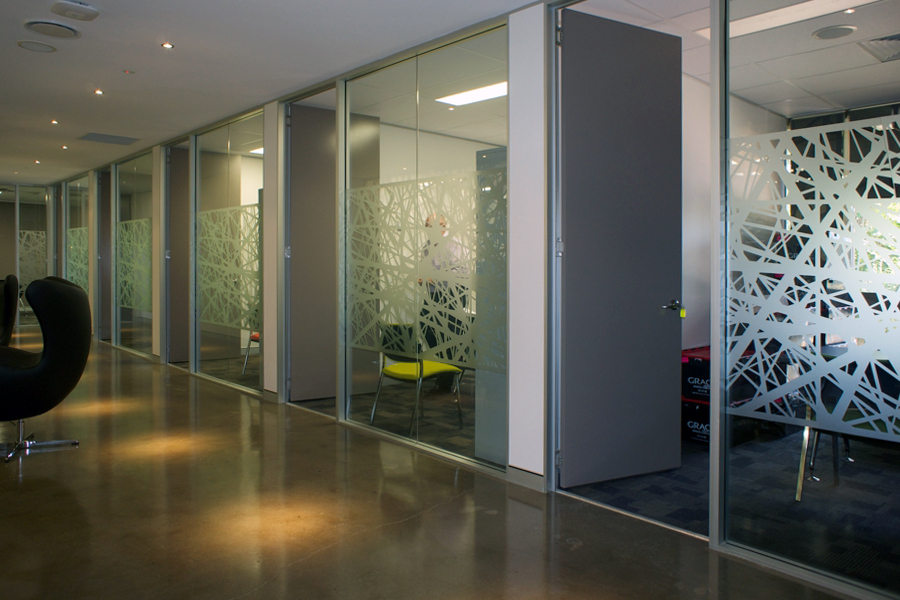 Window Treatments
Glass is one of the most versatile materials used in the building industry today. As a cladding, glass is waterproof, light and easy to install and, as an office partitioning, it provides effective semi-permanent walling. Glass is also the perfect substrate for decorative film.
A window treatment is an interior decorating element placed on, in, around or over a window. Frosting is a great option for creating a sense of privacy without compromising on light. It can be used to mark the transition from public to private space, to give your clients a sense of safety while providing subtle branding messages. With one-way vision effects, window frosting can also be used to create some privacy for work spaces such as offices and meeting rooms. More than simple white, frosting can be coloured to create visual interest or be used in conjunction with full colour graphics.
Our goal of providing professional window treatment is to install design pieces and elements which help enhance the aesthetics of the window itself and the room it's a part of. From simple frosted glass panels that give privacy to businesses, to elaborate precision cut designs that create ambience and character, we have a window film solution for all your glass panels.